University of California summer institute for emerging managers and leaders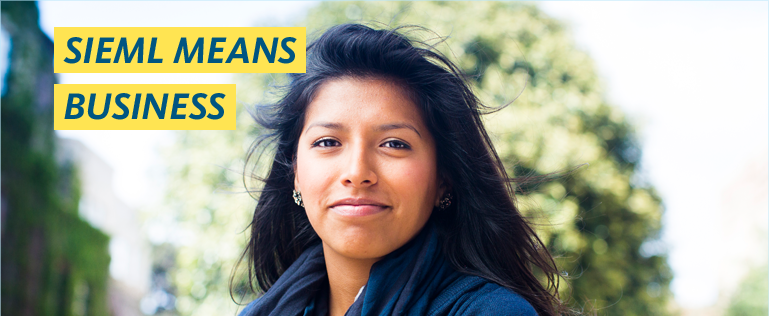 Key Dates
Sept. 20

Online Application Opens

The application for 2022 SIEML program opens September 20, 2021. Create your log in and begin the application.
Feb. 14

EXTENDED Application Deadline

The extended application submission deadline is Monday, February 14th at 11:59 PM Pacific Standard Time (PST).
Late March

Decisions Announced

All applicants will be notified of the admission committee's decision by the end March.
May 15-26

2022 SIEML Program

The 2022 immersive business leadership program will be held at UCLA's Anderson School of Management from Sunday, May 15th through Thursday, May 26th, 2022.
SIEML 2022 will be held at UCLA Anderson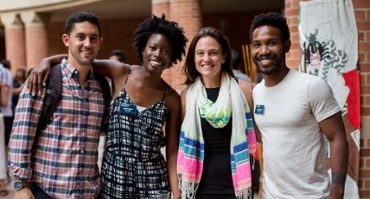 About SIEML
SIEML is a systemwide initiative that aims to increase diversity in graduate business programs at the six University of California business schools.
Eleven days this summer can lead to a lifetime of opportunity
The Summer Institute for Emerging Managers and Leaders (SIEML) offers an all-expenses-paid immersive business and career leadership experience for undergraduate students currently enrolled in their sophomore or junior year at an HBCU (Historically Black College and University) or HSI (Hispanic Serving Institution). SIEML alumni are eligible to receive up to two years of full fee and tuition fellowships at any of the six University of California graduate business schools.
The SIEML experience includes workshops and lectures from esteemed faculty and administrators from the six University of California business schools, networking with industry leaders, and company site visits. The program concludes with a case competition and closing celebratory dinner.
SIEML 2021 PARTICIPANTS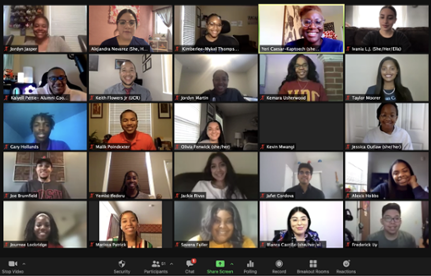 2021 Case Competition Winners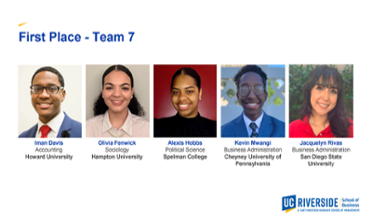 2021 Case Competition
Accenture provided this year's case which focused on providing housing, support, and resources for unhoused youth in California. Pictured is the first place team (from left): Iman Davis, an accounting major from Howard University; Olivia Fenwick, a sociology major from Hampton University; Alexis Hobbs, a political science major from Spelman College, Kevin Mwangi, a business administration major from Cheyney University of Pennsylvania, and Jacquelyn Rivas, a business administration major from San Diego State University.
Who can apply?
Applicants who meet the following criteria are invited to apply:
Students currently enrolled at a four-year HBCU or HSI with sophomore or junior standing or
Transfer-ready California HSI community college students (only students who are applying for and planning to enroll in a four year college for fall 2022 are eligible).
Applicants nust be U.S. citizens, permanent residents, or undocumented students with AB540 or DACA status.
We accept applications from all majors—you just need to be interested in attending a graduate business program.
While we do not have a minimum GPA requirement, we encourage applications from students with at least a 3.0 GPA.