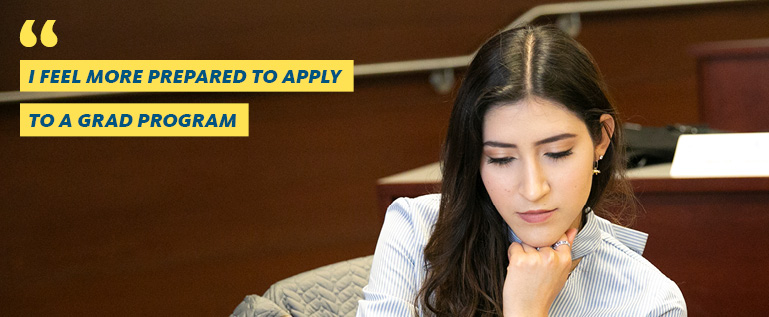 Apply Online
The online application for the 2021 SIEML program, hosted by UC Riverside's A. Gary Anderson Graduate School of Management, opens on September 14, 2020.  Please check back then, or sign-up to receive graduate business school resources and announcements (including a reminder when the applications open).
First time users must register and create a user name and password. Once you register, you can log in and start your application, save your progress, finish your application, or save and submit it later. Take your time completing your online application, and save your prog­ress on each page before moving to the next section. 
What's Required to Complete Your Application
To be considered for the program we must receive the following materials by the application deadline, Monday, December 21, 2020 at 11:59PM (PST):
A submitted application
A letter of recommendation
An essay statement
An official copy of your transcripts (including transcripts from courses that you transferred from another institution if the course(s) and grade(s) are not listed on your official transcript)
An updated copy of your résumé
Your spring 2021 class schedule in PDF format  
Letter of Recommendation
We are interested to know how your professors, managers, or other senior leaders evaluate your leadership skills, potential for success in a graduate business school program, and your aptitude and interest in developing your quantitative skills. Your letter of recommenda­tion must be submitted online by your recommender. Additional information is available once you log into the online application. 
Essay Statement
The essay is your opportunity to share what type of leader you are, what leadership and career skills you are interested in developing, and your interest in attending a graduate business program. This will help us better understand the leader you will become and how SIEML can help you prepare to accomplish your goals. Your essay should be a maximum of 750 words single or double spaced.
Transcripts
All applicants are required to submit an electronic copy of their official transcripts. If your school does not have electronic transcripts, please scan a paper copy of your official transcripts and upload them with your application. If you transferred courses from another institution and the courses and grades are not listed on your official transcript, you must also upload official copies from the other institution. What are your accomplishments? We want to learn more about your educational, professional, and community, and leadership experi­ences.
Résumé
What are your accomplishments? We want to learn more about your educational, professional, and community, and leadership experiences.
Spring 2021 Schedule
Please attach copy of your spring 2021 schedule. It does not have to be an "official" copy, but it should be from your campus system (e.g. student enrollment system).
Ask for help
If you have a question about the application process contact us at sieml@ucop.edu.