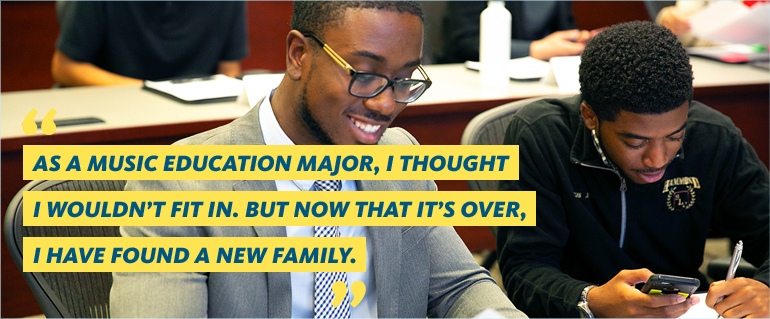 Who can apply?
SIEML is interested in recruiting academically talented students who have the potential to be dynamic industry leaders, and are seeking an opportunity to further develop those skills. SIEML participants are often leaders on their campus, community, or workplace, and are recognized by campus faculty and administrators for their leadership and educational accomplishments. SIEML participants should be committed to their educational and professional success, have a growth mindset, and have the ability to work well with and learn from others.
SIEML will accept a maximum of 50 students each year. Applicants must be a current undergraduate sophomore or junior enrolled at a four-year HBCU or HSI during the 2019-2020 academic year. Students are encouraged to apply from any major, but they must demonstrate an interest in attending a graduate business program.
While we look forward to receiving and reviewing applications from many talented students, we especially encourage applications from students who consider California their home state and are looking to pursue their graduate education here, whether or not they attend school in or out of state.
Not sure if your school is an HBCU or HSI? Check here for a list of HBCUs and here for a list of HSIs.
What previous participants have to say about SIEML
 
"SIEML was by far one of my favorite experiences in college and I'm incredibly thankful for the opportunity. The information I gained and peers & professionals I met are still active members of my network."
"I feel more prepared to apply to a grad program and am looking to apply outside my university."
"I am so grateful for this opportunity. Before SIEML, I thought graduate school was completely unattainable, now I know I have resources I can use to make my dream a reality."
"I am grateful to have participated in such a great program as SIEML. I was in the very first cohort and absolutely had an amazing learning experience with SIEML. My communication skills and professional skills really improved greatly with the program and I was able to start my professional career with confidence."
"Thank you for continuing to invest in this program. Truly, attending my first SIEML summer session changed my perspective on what was possible, what I could accomplish, and ultimately what my life could be."
Application Requirements
Students currently enrolled at an HBCU or HSI with sophomore or junior standing.
We accept applications from all majors—you just need to be interested in attending a graduate business program.
While we do not have a minimum GPA requirement, we encourage applications from students with at least a 3.0 GPA.


2019 Cohort
While the selection process is competitive, program administrators are driven to bring together a diverse group of emerging managers and leaders with a variety of skill sets.
table to show diverse group of emerging managers and leaders with a variety of skill sets

| Gender | Grade Point Average |
| --- | --- |
| Female: 32 | Average: 3.72 |
| Male: 18 | Range: 3.01 to 4.00 |
Colleges Represented

California State University San Marcos; California State University, East Bay; California State University, Fresno; California State University, Fullerton; California State University, Long Beach; Claflin University; Dillard University; FAMU/ FSU Engineering; Fayetteville State University; Florida Agricultural and Mechanical University; Hampton University; Howard University; Lincoln University; Morehouse College; Morgan State University; North Carolina Agricultural and Technical State University; North Carolina Central University; Paul Quinn College; Philander Smith College; Prairie View A&M; San Diego State University; Spelman College; Tennessee State University; UC Santa Cruz; University of Texas at El Paso; University of the District of Columbia


Majors
Accounting/Banking/Finance; Agriculture; Business Administration & Management; Communications; Computer Engineering/ Science; Economics; Education; Electrical Engineering; Industrial Engineering; Marine Biology; Marketing Management & Research; Mathematics; Mechanical Engineering; Operations Research and Management Science; Political Science and Government; Psychology


Home
California (9); Texas (9); Florida (4); Maryland (4); Georgia (3); Virginia (3); Delaware (2); North Carolina (2); New York (2); Illinois (1); Minnesota (1); International (8).