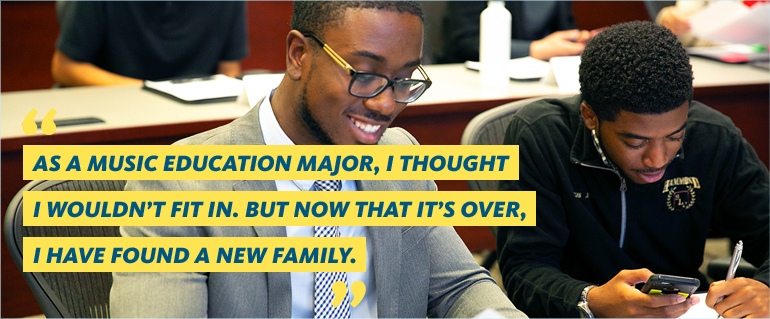 Who can apply?
SIEML is interested in recruiting academically talented students who have the potential to be dynamic industry leaders, and are seeking an opportunity to further develop those skills in a graduate business program. SIEML participants are often leaders on their campus, community, or workplace, and are recognized by campus faculty and administrators for their leadership and educational accomplishments. SIEML participants should be committed to their educational and professional success, have a growth mindset, and have the ability to work well with and learn from others.
SIEML will accept a maximum of 50 students each year. Applicants must be a current undergraduate sophomore or junior enrolled at a four-year HBCU or HSI, a transfer ready California HSI community college student, and a US citizen, permanent resident, DACA, or AB540 (California Dream Act) eligible. Students are encouraged to apply from any major, but they must demonstrate an interest in attending a graduate business program.
While we look forward to receiving and reviewing applications from many talented students, we especially encourage applications from students who consider California their home state and are looking to pursue their graduate education here, whether or not they attend school in or out of state.
Not sure if your school is an HBCU or HSI? Check here for a list of HBCUs and here for a list of HSIs.
What previous participants have to say about SIEML
 
"SIEML was by far one of my favorite experiences in college and I'm incredibly thankful for the opportunity. The information I gained and peers & professionals I met are still active members of my network."
"I feel more prepared to apply to a grad program and am looking to apply outside my university."
"I am so grateful for this opportunity. Before SIEML, I thought graduate school was completely unattainable, now I know I have resources I can use to make my dream a reality."
"I am grateful to have participated in such a great program as SIEML. I was in the very first cohort and absolutely had an amazing learning experience with SIEML. My communication skills and professional skills really improved greatly with the program and I was able to start my professional career with confidence."
"Thank you for continuing to invest in this program. Truly, attending my first SIEML summer session changed my perspective on what was possible, what I could accomplish, and ultimately what my life could be."
Application Requirements
Applicants who meet the following criteria are invited to apply:
Students currently enrolled at a four-year HBCU or HSI with sophomore or junior standing or
Transfer-ready California HSI community college students (only students who are applying and planning to enroll in a four year college for fall 2023 are eligible).
Applicants must be U.S. citizens, permanent residents, or undocumented students with AB540 or DACA status.
We accept applications from all majors—you just need to be interested in attending a graduate business program.
While we do not have a minimum GPA requirement, we encourage applications from students with at least a 3.0 GPA.
*Note: All participants must be fully vaccinated and boosted against the COVID-19 virus.
2022 Cohort
While the selection process is competitive, program administrators are driven to bring together a diverse group of emerging managers and leaders with a variety of skill sets.
table to show diverse group of emerging managers and leaders with a variety of skill sets

| Gender | Grade Point Average |
| --- | --- |
| Women: 29 | Average: 3.67 |
| Men: 15 | Range: 3.10 to 4.00 |
Colleges Represented
Alabama A&M University; Alabama State University; California State Polytechnic University, Pomona; California State University, Fresno; California State University, Los Angeles; California State University, Monterey Bay; California State University, Northridge; California State University, San Bernardino; Compton College; Cuesta College; Fayetteville State University; Florida A&M University; Hampton University; Howard University; Morehouse College; Morgan State University; Mount San Jacinto College; North Carolina A&T State University; North Carolina Central University; Paul Quinn College; Prairie View A&M University; San Francisco State University; San Jose State University; Spelman College; University of California, Merced; University of California, Santa Cruz; Xavier University of Louisiana
Majors
Accounting/Banking/Finance; Agricultural Economics; Biology; Business Administration & Management; Computer Science; Criminal Justice; Economics; Education; Mathematics; Political Science; Psychology; Sociology
Home
Alabama (3); Arkansas (1); California (21); Florida (2); Georgia (2); Louisiana (1); Massachusetts (1); Maryland (5); North Carolina (3); New Jersey (1); Pennsylvania (1); New York (1); Ohio (1); Tennessee (1); Texas (1)