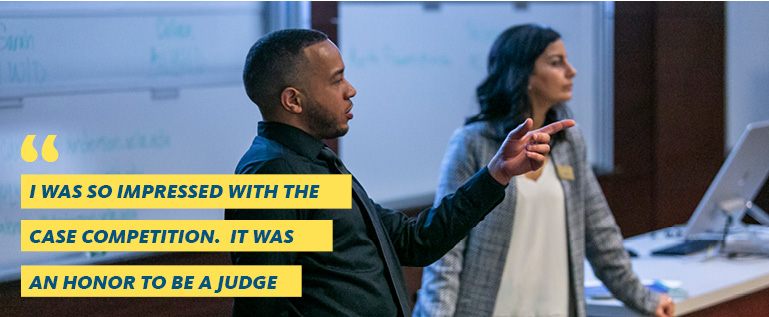 Corporate Sponsors
SIEML participants are amongst the most talented students as demonstrated through their academic and leadership accomplishments. These students are selected to participate in the program through a competitive application process. Their applications are reviewed by high-level UC business school administrators, who believe that they demonstrate the skills, qualities, and values to be admitted into their graduate business programs, and make an impact in their industry. Thus, SIEML participants are an invaluable resource to compa­nies who desire to recruit top talent and also understand the value of diversity.
SIEML's corporate sponsors are integral to the success of the program and support co-curricular experiences during the 11-day immer­sive leadership experience. Most importantly, they are partners investing in the development of diverse future leaders.
There are many opportunities for corporate engagement including:
Sponsoring the case competition
Sponsoring the prize awards, which includes serving on the distinguished judging panel and presenting the awards during the closing dinner
Partnering on internships & job opportunities
Executive speaking opportunities
Sponsorship recognition throughout the program and at the closing dinner
Access to the coveted SIEML resume book
2022 Partners



Corporate Sponsors and Resource Partners
SIEML is grateful to receive support from a variety of corporations and organizations. This support varies in the form of sponsorships, in-kind gifts, site-visits, mentors, speakers, and hosting events and tours. Below is a list of our generous sponsors and resource part­ners.
Accenture
Anthem Blue Cross
AT&T
Booze Allen Hamilton
Chevron
Deloitte
ETS
Facebook
Jack in the Box
Kaiser Permanente
Kapor Center
LA Live
Mattel
NBC
Outdoor Afro
Potrero Group
Qualcomm
San Diego Gas & Electric
San Diego Padres
Sempra Energy
Solar Max Technologies
Sony
Staples Center
Target
Thoro Packaging Company
UCR Arts
Visa
Volkswagen
Wells Fargo