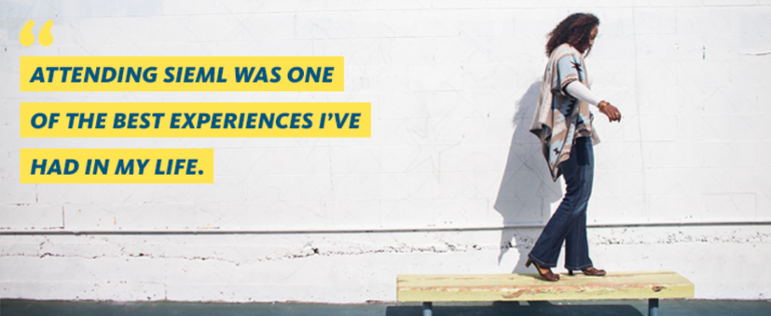 Purpose
The purpose of SIEML is to increase the diversity of graduate students enrolled in the UC business schools. We create a pathway to enrollment at UC graduate business schools by providing students from diverse backgrounds with an exceptional leadership experience, and equipping them with the necessary tools and insights to apply to a graduate business program.
Program History
SIEML was launched in 2012 as a joint effort of the University of California business schools and then California Assemblyman (currently State Senator) Anthony Portantino, with support from the UC Office of the President. This initiative grew from discussions among the business school deans led by Robert S. Sullivan (founding dean of the Rady School of Management), Senator Anthony Portantino, and with then UC Provost Larry Pitts, regarding the business schools' on-going efforts to recruit talented underrepresented students for the full-time MBA programs on each campus. Since the program's inception, the focus has evolved to include all graduate business programs, and fee and tuition fellowships for SIEML alumni who are admitted into a UC graduate business program.
SIEML is for undergraduates from Historically Black Colleges and Universities (HBCUs) and Hispanic Serving Institutions (HSIs), and intended to provide both a strong business educational and leadership experience, and exposure to the University of California business schools. Download our program brief to learn about our impact and program outcomes.
Graduate Studies
SIEML is one of the programs under the Graduate Studies Department which facilitates efforts to advance inclusive excellence at the graduate level by improving graduate diversity, equity and inclusion through a number of projects, efforts and initiatives that increase awareness of and pathways to UC's world-renowned graduate programs. Graduate studies collaborates and coordinates with graduate and professional school leadership throughout the system and with staff at each campus and within the Office of the President on the following programs and initiatives: UC-HBCU Initiative, UC-HSI Doctoral Pathways program, The California Forum for Diversity in Graduate Education, UC Leads, and the Sally Casanova Pre-Doctoral Scholars.
Senator Anthony J. Portantino
SIEML would not exist without the vision, engagement, and continuous support of Senator Anthony J. Portantino. Senator Portantino currently represents Senate District 25 in the State Legislature. He is a former Assembly member having served three terms in the California State Assembly representing the 44th Assembly District. He has also served his community of La Cañada as a City Councilmember for two terms. He is married and a father of two daughters, a community volunteer and tireless advocate for public education and accountability. Senator Portantino chairs the Senate Appropriations Committee, the Select Committee on California, Armenia and Artsakh Trade, Art and Cultural Exchange and he is a sitting member of the Banking and Financial Institutions, Governmental Organization and Insurance Committees. Senator Portantino represents over 930,000 people in the 25th Senate District which includes Altadena, Atwater Village, Bradbury, Burbank, Claremont, Duarte, Glendale, Glendora, La Cañada Flintridge, La Crescenta, La Verne, Lake View Terrace, Los Feliz, Monrovia, Montrose, Pasadena, San Dimas, San Marino, Shadow Hills, Sierra Madre, South Pasadena, Sunland-Tujunga, and Upland.