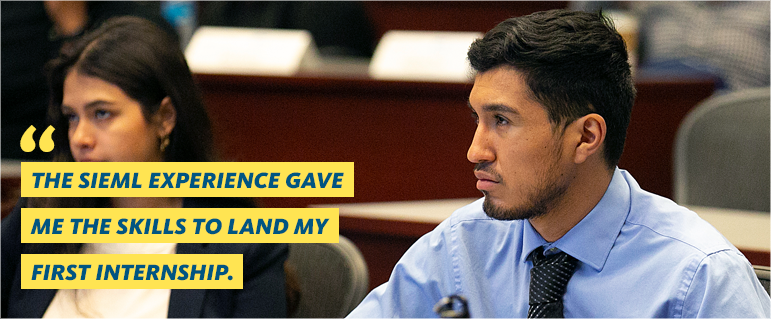 SIEML Alumni at UC
Our six UC business schools offer several graduate degree programs, providing SIEML alumni with a variety of options to pursue their graduate education in California -  one of the country's most thriving hubs for enterprise, innovation, and diversity. Take a look at the UC graduate schools and programs our alumni have or are currently attending.
Other UC Graduate Program Enrollment
Naya Coard (SIEML 2014)

Spelman College

Amarachi Ejiawoko (SIEML 2014)

Claflin University

Steven Hensley (SIEML 2021)

California State University, Fresno
---
SIEML Alumni Stories
We are proud to have over 350 talented individuals as SIEML alumni! Learn more about their UC graduate business school and SIEML and experiences below. 
Salem Arthur (SIEML 2017)

Paul Merage School of Business, UC Irvine

Morehouse College

Jordyn Weaver (SIEML 2018)

Paul Merage School of Business, UC Irvine

University of Arkansas at Pine Bluff

Maya Reeves (SIEML 2019)

North Carolina Central University, Accounting and Business Administration Majors

Graduation Date: May, 2020

Landing the Job(s)

Rady School of Management, UC San Diego

Mariana Bailon (SIEML 2020)


Graduate School of Management, UC Davis

Alejandra Nevarez (SIEML 2020)

Graduate School of Management, UC Davis

Kaiyell Pettie (SIEML 2020)

Graduate School of Management, UC Davis

Taylor Morrer (SIEML 2021)


Spelman College, Psychology Major
Expected Graduation: May 2022

A. Gary Anderson Graduate School of Management, UC Riverside